Baptism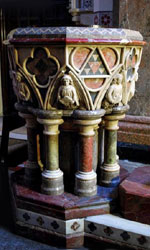 In baptism, we thank God for his gift of life and publicly acknowledge his love. In the Anglican Church it is common to baptise young children; this is sometimes known as christening.
Baptism is a 'sacrament' (holy ritual to symbolise grace) in the Christian tradition that is traced back to Jesus himself being baptised in the river Jordan.
For anyone, Baptism marks the start of a journey of faith, which involves turning away from all that is evil, turning towards Christ and becoming a member of the local and worldwide Christian family.
If you would like to talk about the baptism of your child or your own journey of faith, please contact a memeber of the Clergy at All Saints or at your local Parish Church.
---