Sacraments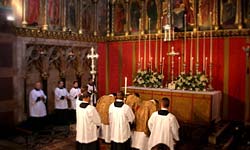 The Sacraments we celebrate at All Saints Margaret Street, as in the Church of England are Baptism, The Eucharist, Holy Matrimony, Confession, Confirmation and the Annointing of the Sick.
These are what were defined by the 16th century Anglican divine, Richard Hooker as "an outward and visible sign of an inward and spiritual grace."
Sacraments have both form and matter. A form is the verbal and physical liturgical action while the matter refers to any material objects used (e.g. water and chrism in Baptism; bread and wine in the Eucharist, etc.).
---