Subscribe to the weekly email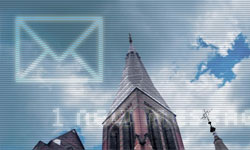 Keep up to date - from nearby or far away - with the news from All Saints Margaret Street by joining our regular email newsletter mailing list.
Our weekly messages provide the latest parish news, reflections on the liturgy and keep you informed about forthcoming events.
If you would like to sign up to receive emails, please fill in your details in the form below. You can unsubscribe at any time and we will not pass on your contact details to anyone else.
---
---
Read our Privacy policy
---