CD Shop
.
Carols from All Saints Margaret Street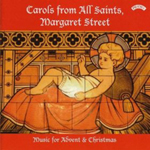 Music for Advent and Christmas
The Choir of All Saints, Margaret Street, London
Conductor: Paul Brough
Organ: Andrew Arthur
Priory Records PRCD 898
---
Track list
This album includes the following tracks. If a preview track is available, you can click the
play button to listen.
| track | title | |
| --- | --- | --- |
| 1 | Kindle a Light | listen |
| 2 | Gabriel's Message | listen |
| 3 | Chorale Prelude: Nun Komm, Der Heiden Heiland Bwv 599 | listen |
| 4 | It Is High Time to Awake | listen |
| 5 | Chorale Prelude: Nun Komm, Der Heiden Heiland Buxwv 211 | listen |
| 6 | Adam and His Helpmate | listen |
| 7 | The Noble Stem of Jesse | listen |
| 8 | Chorale Prelude: In Dulci Jubilo Buxwv 197 | listen |
| 9 | Ding Dong! Merrily On High | listen |
| 10 | Away In a Manger | listen |
| 11 | Chester Lullaby | listen |
| 12 | In the Bleak Midwinter | listen |
| 13 | Chorale Prelude: Allein Gott In Der Hoh Sei Her Buxwv 711 | listen |
| 14 | Chorale Prelude: Allein Gott In Der Hoh Sei Her Buxwv 715 | listen |
| 15 | A Cradle Song of the Blessed Virgin | listen |
| 16 | This Lovely Lady Sat and Song | listen |
| 17 | The Rose of Bethlehem | listen |
| 18 | Choale Prelude: Puer Natus In Bethlehem Buxwv 217 | listen |
| 19 | Lully, Lulla, Thou Little Tiny Child | listen |
| 20 | O Leave Your Sheep | listen |
| 21 | Shepherd of Bethlehem | listen |
| 22 | Chorale Prelude: In Dulci Jubilo Buxwv 729 | listen |
| 23 | The Yorkshire Wassail Song | listen |
| 24 | O Come, All Ye Faithful | listen |
| 25 | Chorale Prelude: Vom Himmel Hoch, Da Komm Ich Her Bwv 700 | listen |
---
---