CD Shop
The English Rachmaninov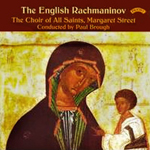 Rachmaninov visited All Saints, Margaret Street and heard, enjoyed and approved Dr Walter Vale's English adaptation of his "Liturgy of St John Chrysostom", known affectionately as the "Rachmaninov in B flat" Mass. In the light of this approval the further developed tradition of Rachmaninov's music in use at All Saints is here recorded, together with Dr Vale's "Requiem".
---
Track list
This album includes the following tracks. If a preview track is available, you can click the
play button to listen.
| track | title | |
| --- | --- | --- |
| 1 | Mass In B Flat: Kyrie | listen |
| 2 | Mass In B Flat: Gloria | listen |
| 3 | Mass In B Flat: Credo | listen |
| 4 | Mass In B Flat: Sanctus & Benedictus | listen |
| 5 | Mass In B Flat: Agnus Dei | listen |
| 6 | Evening Canticles In B Flat: Magnificat | listen |
| 7 | Evening Canticles In B Flat: Nunc Dimittis | listen |
| 8 | Benediction Hymns: O Salutaris | listen |
| 9 | Benediction Hymns: Tantum Ergo | listen |
| 10 | Ave Maria | listen |
| 11 | Hymn of the Cherubim | listen |
| 12 | Requiem Mass In D Flat in Commemoration of the Faithful Departed: Intriot & Kyrie | |
| 13 | Requiem Mass In D Flat: Gradual & Tract | |
| 14 | Requiem Mass In D Flat: Plainsong sequence | |
| 15 | Requiem Mass In D Flat: Offertorium | |
| 16 | Requiem Mass In D Flat: Sanctus & Benedictus | |
| 17 | Requiem Mass In D Flat: Agnus Dei & Communion | |
| 18 | Requiem Mass In D Flat: Libera me | |
| 19 | Hosanna Filio David | |
---
---