CD Shop
.
Adoremus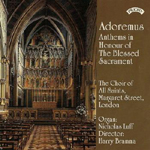 Anthems in honour of the Blessed Sacrament
The Choir of All Saints, Margaret Street, London
Organ: Nicholas Luff
Directed by Harry Bramma
(Priory Records; 1994)
---
Track list
This album includes the following tracks. If a preview track is available, you can click the
play button to listen.
| track | title | |
| --- | --- | --- |
| 1 | O Salutaris - Johann Fischer | |
| 2 | Tantum Ergo (No 1) - Tomas Luis de Victoria | |
| 3 | O Salutaris - Thomas Tallis | listen |
| 4 | Tantum Ergo (No 2) - Tomas Luis de Victoria | listen |
| 5 | O Salutaris - César Franck | |
| 6 | Tantum Ergo - César Franck | |
| 7 | O Salutaris (No 1) - Edward Elgar | listen |
| 8 | Tantum Ergo - Anton Bruckner | |
| 9 | O Salutaris - Gioachino Rossini | |
| 10 | Tantum Ergo - Deodat de Severac | |
| 11 | O Salutaris - Gabriel Fauré | |
| 12 | Tantum Ergo - Gabriel Fauré | |
| 13 | O Salutaris (No 2) - Edward Elgar | |
| 14 | Tantum Ergo - William Mathias | |
| 15 | O Salutaris - Herbert Sumsion | |
| 16 | Tantum Ergo - Herbert Sumsion | |
| 17 | O Salutaris - Pierre Villette | |
| 18 | Tantum Ergo - Maurice Duruflé | |
| 19 | O Salutaris - Walter Vale | |
| 20 | Tantum Ergo - Walter Vale | |
| 21 | O Salutaris - Norman Caplin | |
| 22 | Tantum Ergo - Norman Caplin | |
| 23 | O Salutaris - Sydney Nicholson | |
| 24 | Tantum Ergo - Sydney Nicholson | |
| 25 | O Salutaris - Camille Saint-Saens | |
| 26 | Tantum Ergo - George Henschel | |
---
---