CD Shop
.
The Complete New English Hymnal Vol. 7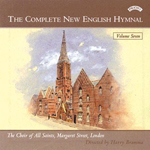 The Choir of All Saints Margaret Street, London
Organ: Andrew Arthur
Directed by Harry Bramma
(Priory Records; 2001)
Total playing time: 71: 36
---
Track list
This album includes the following tracks. If a preview track is available, you can click the
play button to listen.
| track | title | |
| --- | --- | --- |
| 1 | Ride on, ride on in majesty! | listen |
| 2 | All glory, laud and honour | listen |
| 3 | Come rejoicing | listen |
| 4 | God is love | listen |
| 5 | The prophetic anthem | listen |
| 6 | Saviour eternal | listen |
| 7 | O Sapienta | listen |
| 8 | Magnificat and the rest of the Advent antiphons | listen |
| 9 | The Candelmas ceremony | listen |
| 10 | Come, Christ's beloved | listen |
| 11 | A simpler setting of the reproaches | listen |
| 12 | The Lent prose | listen |
| 13 | Faithful Cross above all other (1) | listen |
| 14 | Faithful Cross above all other (2) | listen |
| 15 | The palm procession | listen |
| 16 | Veneratum and Reproaches | listen |
| 17 | Advent prose | listen |
---
---