CD Shop
.
Gaudeamus - Music for the Feasts of All Saints and All Souls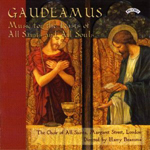 The Choir of All Saints, Margaret Street, London
Organ: Nicholas Luff
Directed by Harry Bramma
(Priory Records; 2000)
---
Track list
This album includes the following tracks. If a preview track is available, you can click the
play button to listen.
| track | title | |
| --- | --- | --- |
| 1 | Hymn: Hark! the sound of holy voices (Tune: Deerhurst) | listen |
| 2 | Introit: Gaudeamus (Plainsong) | listen |
| 3 | Missa Omnium Sanctorum (Norman Caplin): Kyrie eleison | listen |
| 4 | Gloria in excelsis Deo | listen |
| 5 | Sanctus and Benedictus | |
| 6 | Agnus Dei | |
| 7 | Hymn: In our day of thanksgiving (Tune: St Catherine's Court) | listen |
| 8 | Introit and Kyrie (Requiem Mass in D flat) Walter Vale | |
| 9 | Sequence: Dies Irae, dies illa (Plainsong, arr. Walter Vale) | |
| 10 | Bring us, O Lord God (WH Harris) | listen |
| 11 | Hymn: Jesu, son of Mary (Tune: Swahili) | listen |
| 12 | Office Hymn: Father, in whom thy saints are one (Tune: Veni Redemptor) | |
| 13 | Magnificat and Nunc Dimittis in D (Sir Edward Bairstow): Magnificat | listen |
| 14 | Magnificat and Nunc Dimittis in D (Sir Edward Bairstow): Nunc Dimittis | listen |
| 15 | Beati quorum via (Sir Charles Villiers Stanford) | listen |
| 16 | O salutaris hostia (Harry Bramma) | |
| 17 | Te Deum Laudamus in G (Herbert Sumsion) | |
| 18 | Tantum ergo sacramentum (Harry Bramma) | |
| 19 | Hymn: Alleluyia, sing to Jesus (Tune: Hillingdon) | listen |
---
---