CD Shop
.
Sacred Choral Music of William Lloyd Webber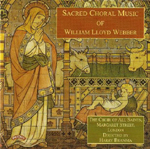 The Choir of All Saints, Margaret Street, London
Organ: Nicholas Luff
Directed by Harry Bramma
(Priory Records; 1999)
Total playing time: 73:46
To purchase this disc (£15.75 UK; £16.10 Overseas - including p&p) please contact the church office via the contact page
---
Track list
This album includes the following tracks. If a preview track is available, you can click the
play button to listen.
| track | title | |
| --- | --- | --- |
| 1 | A Hymn of Thanksgiving | |
| 2 | Missa Princeps Pacis (The Prince of Peace): Kyrie eleison | |
| 3 | Gloria in excelsis Deo | |
| 4 | Sanctus | |
| 5 | Benedictus | |
| 6 | Agnus Dei | |
| 7 | Lo! my shepherd is divine | |
| 8 | Dominus firmamentum meum | |
| 9 | Missa Sanctae Mariae Magdalenae: Kyrie eleison | |
| 10 | Gloria in excelsis Deo | |
| 11 | Sanctus | |
| 12 | Agnus Dei | |
| 13 | Ite missa est | |
| 14 | O Love, I give myself to thee | |
| 15 | Tantum ergo sacramentum | |
| 16 | Magnificat and Nunc Dimittis in E minor: Magnificat | |
| 17 | Magnificat and Nunc Dimittis in E minor: Nunc Dimittis | |
| 18 | Most glorious Lord of Lyfe! | |
| 19 | Love Divine, all loves excelling | |
| 20 | Sing the life | |
| 21 | The stable where the oxen stood | |
| 22 | New life in Christ | |
---
---