Music at All Saints Margaret Street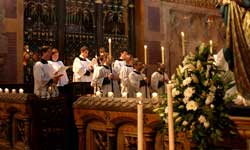 Music plays an integral part in worship at All Saints, just as it has done within worship since the earliest centuries of the Christian church.
The principal musical services are High Mass, on Sundays at 11am, and on Holy Days during the week at 6.30pm, while Choral Evensong and Benediction are sung every Sunday evening at 6pm.
A music list for the current month can be found in the Parish Paper, which you can access via the link on the Homepage
We welcome all to join us in our choral worship and enjoy the rich tradition of music at All Saints in the presence of God.
---
Music list
---