Inside the Church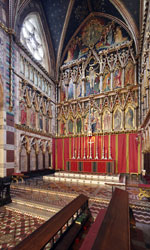 On entering the church, one is met by a reverential gloom, invariably infused by drifting clouds of incense. As one's eyes become accustomed to the subdued light, a kaleidoscope of coloured tiles, brick, painting and gilding emerges. On a sunny day, shards of light cut across the chancel, spot-lighting decoration on its walls, and creating a distinction between this area of the church and the darker recesses of the nave.
The designs that adorn the walls and pillars owe much to Ruskin who, in The Seven Lamps of Architecture (1849), advocated the use of chequers, zig-zags, stripes and geometrical colour mosaic. Matthew Digby Wyatt's Specimans of Geometrical Mosaic of the Middle Ages may also have influenced some of the detailing. However, both of these favoured stone and marble, rather than tile, making the interior patterning of All Saints very much Butterfield's own work. Ruskin, in fact, did not 'altogether like the arrangements of colour in the brickwork.' Butterfield's tiled floor, made by Minton, is deep red with black checks and a white stone diaper, while the north and south aisles have a triangular variation on this pattern. The roof, now repainted, was originally in chocolate and white with blue detailing.
Features of particular note include: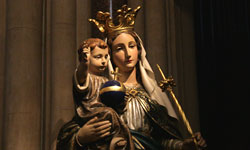 The majestic and serene statue of Our Lady with the Christ Child was carved in Bruges by Louis Grosse.
It was painted and gilded in London, and presented to the church in 1924. It has recently been beautifully restored.
---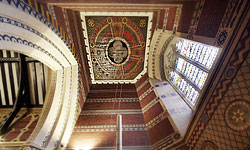 The baptistery, in the south-west corner, houses the font (1857-8), and the large paschal candlestick, a copy of one in the Certosa at Pavia, Italy.
In the ceiling resides 'the Pelican in its Piety', piercing her breast to feed her young - symbolic of the Fall and Redemption of man (the pelican was supposed to slay her rebellious offspring then revive them with her own blood).
---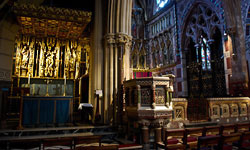 The Lady Chapel (1911), situated at the east-end of the north aisle, was designed by Sir Ninian Comper in late Gothic style, and was enlarged in 1971 by Ian Grant as a memorial to Kenneth Ross (1908-1970), eighth vicar of All Saints (1957-69). The reredos is of Caen stone and alabaster, and shows the Virgin and Child surrounded by angels and saints. It was restored by Peter Larkworthy in 1978-80.
The pulpit, by Butterfield, c1858, manages to exude both a rugged solidity and a harmonious delicacy, the latter on account of the brilliantly coloured geometrical mosaics which adorn it, comprising Derbyshire fossil grey, red Languedoc, yellow Sienna and Irish green marbles.
---