The Chancel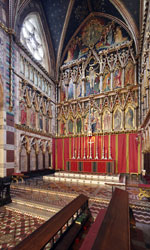 The chancel, one of the most sumptuous and dramatic in London, occupies almost one-third of the length of the church - a reflection of the Tractarian requirement that the Sacraments be stressed above the Word. Its size, the grand and ornate reredos, the gradual enrichment of the decoration as one moves further east, the position of the windows casting shards of brilliant light (weather permitting) across the vast chamber, all aid in drawing one's attention towards this part of the church. The chancel is entered through Butterfield-designed gilt iron and brass gates (made by Potter of South Molton Street) set into a low screen of alabaster and marble. The chancel's side arches are filled with rich decorated tracery modelled in alabaster and supported on red serpentine shafts. The floor is elaborately patterned in six colours. The north wall of the sanctuary depicts the Latin doctors, with 16 boy and girl saints above them.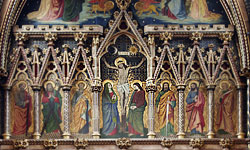 The immense reredos was completed by William Dyce in 1853-9, but suffering the effects of London air, was reproduced by Comper in 1909 on wooden panels in front of the original. Starting at the base with the depiction of Christ's earthly life, the eye is drawn upwards to Christ in glory, the free movement of the figures there contrasting with the more static figures beneath.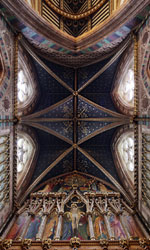 The vault, though influenced by 13th century English work, also shows influence of the upper church of St Francis of Assisi. The ribs spring from capitals and wall shafts based on examples at Warmington church in Northamptonshire. Butterfield had planned an unpainted vault, but Beresford-Hope favoured a painted ceiling, which was coloured by William Dyce at the same time as working on the reredos. It was repainted in 1909 by Comper, and in 1978-80 by Larkworthy.
Most of today's sanctuary furnishings were acquired in the early 20th century - Butterfield, suspicious of ritualism, had originally planned it to be simply furnished. The great silver pyx, designed by Comper, was given by the Duke of Newcastle in 1928 as a memorial to choristers killed in the First World War.
---