Beginnings of All Saints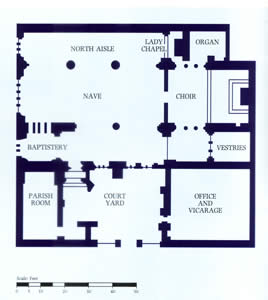 The church owes it origins to the Cambridge Camden Society (from 1845, the Ecclesiological Society) founded in 1839 with the aim of reviving historically authentic Anglican worship through architecture. Its influence was substantial, and by 1843 its 700 members included the Archbishop of Canterbury. Its monthly magazine, The Ecclesiologist, reviewed new churches and assessed their architectural and liturgical significance.
In 1841, the society announced a plan to build a 'Model Church on a large and splendid scale' which would embody important tenets of the Society:
It must be in the Gothic style of the late 13th and early 14th centuries
It must be honestly built of solid materials
Its ornament should decorate its construction
Its artist should be 'a single, pious and laborious artist alone, pondering deeply over his duty to do his best for the service of God's Holy Religion'
Above all the church must be built so that the 'Rubricks and Canons of the Church of England may be consistently observed, and the Sacraments rubrically and decently administered'.
The project was supervised, and largely sponsored on behalf of the society, by Alexander Beresford-Hope, later MP and son-in-law of the Marquis of Salisbury, who chose the architect William Butterfield (1814-1900) to undertake the project (though the two were often to disagree about important aspects of the work). Butterfield designed nearly 100 churches and related buildings during his long career, including the chapels of Balliol College and Keble College, Oxford, and built in a highly personal form of gothic revival. All Saints Margaret Street remains his masterpiece.
A chapel had stood on the site - midway along Margaret Street, which runs parallel to the eastern half of Oxford Street - since the 1760s, which from 1839 had been used by a Tractarian congregation, and who agreed that the Ecclesiological Society's model church could be built there. The site was small - just 100 feet square for a church, choir school and clergy house.
---