Sermons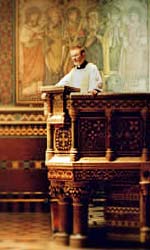 Preaching is an integral part of our worship at All Saints Margaret Street and part of a tradition which goes back to Christ's Sermon on the Mount and to the spreading of the Gospel by the early Christians.
This page lists recent sermons; other recent sermons can also be found in the latest edition of the Parish Paper.
Sermon archive
Older sermons preached before 2012 are available on the Sermons Archive page.
---
Latest Sermon
Sunday 14th December 2014

Choral Evensong & Benediction Sermon preached by The Vicar, Prebendary Alan Moses Readings: 3.1-4 & 4; Philippians 4.4-7 "He will purify the descendants of Levi, and refine them like gold and silver, until they offer pure offerings to the Lord in righteousness" Malachi 3.3 Malachi is the last book of the Old Testament. Its ending seems incomplete; looking for something in the future. For Christians that something… Read more »
Recent Sermons
Select a month to filter sermons by date
| | | | |
| --- | --- | --- | --- |
| JAN | FEB | MAR | APR |
| MAY | JUN | JUL | AUG |
| SEPT | OCT | NOV | DEC |