Worship at All Saints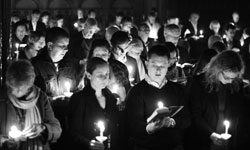 The worship of Almighty God is at the heart of our life at All Saints Margaret Street and is a daily event.
Through our shared discipline, we contribute to the rhythm of prayer of the Church throughout the world.
Our major service each week is High Mass on Sunday morning at 11am. The congregation includes many visitors from all over the world, as well as many regular, long-standing parishioners.
All Saints is a diverse and inclusive congregation. All people are welcome to our fellowship and invited to share our common life.
Please allow time when you attend High Mass to join us for refreshments served in the Courtyard (weather permitting) or the Parish Room afterwards. High Mass services normally last 90 minutes.
---
Forthcoming Services
---
---
---
---